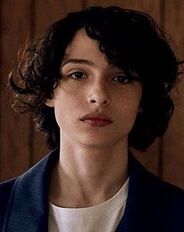 Finn Wolfhard portrays Richie Thompson, one of the eight members of The Losers' Club, in Matt's Charmed Spinoff, Blessed. Finn is best known for his role as Richie Tozier, in the 2017 version of Stephen King's It. The character of Richie Thompson is the same as the character of Richie Tozier, due to crossing of Blessed and It.
His IMDb can be found here: here
Biography
Finn Wolfhard was born in Vancouver, Canada, where he is now in high school. He has always had a laser focus on continuously growing as an actor, all the way back from the time that he saw his first movie. Following that pivotal life event, Finn went to work, and gathered prime time network TV guest roles, independent film, and Shakespeare credits. He broke out playing Mike in the Netflix science fiction drama Stranger Things, before venturing to film success in playing Richie Tozier in the blockbuster horror phenomenon It. His upcoming roles include the drama Dog Days and the horror film The Turning.
Trivia
Outside of acting, Finn loves shredding the bass and guitar. When Finn is not on set, in school, memorizing lines or jamming with friends, he spends his time hanging out with his awesome family and pets.
Brother of Nick Wolfhard, who also acts. Son of Mary Jolivet and Eric Wolfhard, a writer.
Finn admitted to having a fear of clowns, appropriate for playing Richie Tozier in the 2017 IT movie.
Community content is available under
CC-BY-SA
unless otherwise noted.