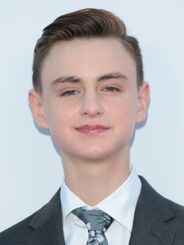 Jaeden Martell (née Lieberher) portrays Bill Reynolds, one of the eight members and leader of The Losers' Club, in Matt's Charmed Spinoff, Blessed. Jaeden is best known for his role as Bill Denbrough, in the 2017 version of Stephen King's It. The character of Bill Reynolds is the same as the character of Bill Denbrough, due to crossing of Blessed and It.
His IMDb can be found here: here
Biography
Jaeden Lieberher was born in Philadelphia, Pennsylvania, to Angela Martell and Wes Lieberher, an executive chef. In 2011, at the age of eight, he moved with his mother across the country to Los Angeles. He never expected that this adventure would lead him into a life of acting. Without any acting classes or training and shortly after arriving in Los Angeles, Jaeden began starring in a number of commercials. At the age of nine he made his big screen debut with a small role playing a young Chris Evans in Playing it Cool directed by Justin Reardon. In the summer of 2013 Jaeden made his way back to the East coast to film St. Vincent, written and directed by Ted Melfi in New York. He was lucky enough to star in the film with legendary actors Bill Murray, Melissa McCarthy, and Naomi Watts. While filming in New York he flew back to California to meet Cameron Crowe, and booked his third movie to be shot in Hawaii. In the Hawaiian project, he shoots opposite Bradley Cooper, Rachel McAdams, and Emma Stone. In early 2014, he filmed Midnight Special, written and directed by Jeff Nichols. He plays a boy with special powers who is on the run with his father (Michael Shannon).
Trivia
In his first film of 2017, Jaeden starred alongside Jacob Tremblay, who portrays Wyatt Halliwell, both playing siblings in the drama The Book of Henry.
His maternal grandmother is Korean. His other ancestry is German, English, French-Canadian, Belgian/Walloon, Scots-Irish, and Scottish.
Oldest of four half-siblings, from his father. He is raised by his mother.
Jaeden took his mother's last name, 'Martell', in early 2019.
Community content is available under
CC-BY-SA
unless otherwise noted.